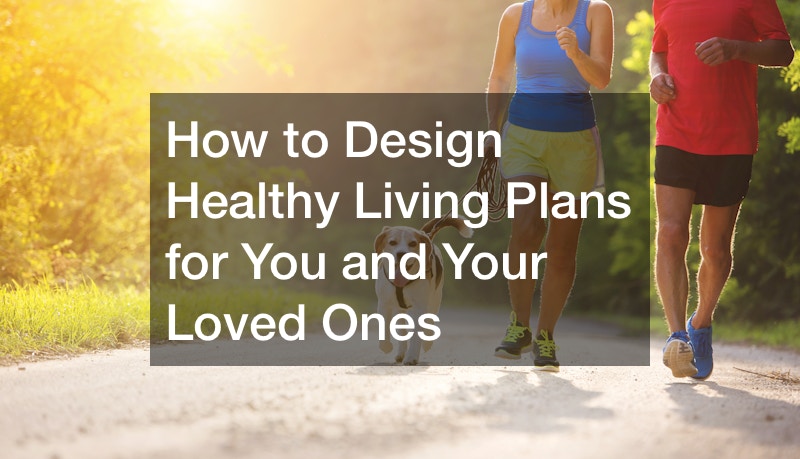 No matter how wealthy or successful you and your family may become, the best way for every family member to enjoy their lives is for all of you to be as healthy as possible. Your physical and emotional health should be of the highest importance in your plans for health. There are many aspects of physical health that can significantly affect your family's healthcare status. You'll also need to pay attention to the care and maintenance of your home since the place where you live can often have an effect on your health. Understanding how to design healthy living plans for you and your loved ones is the best way to safeguard their well-being and avoid potential problems.
Start With a Good Healthcare Team
Think of your family's doctors and other healthcare providers as the captains of your family's healthcare team. If you visit a family doctor or general practitioner, they'll be able to give you a good overview of the positive and negative factors of each family member's health status. They can recommend any vaccines, exams, or tests which should be done, and suggest measures each family member can take to correct any health problems or capitalize on things you're already doing correctly.
Even when your family has a primary doctor, you may also need one or more healthcare specialists. If you have children, they may need to be seen by a pediatrician. If any family members have heart problems, they should regularly visit cardiology specialists. Family members who need support for mental health challenges should be encouraged to see mental health counselors.
Make Your Family's Plan an Active Plan
Having a regular exercise plan is essential for every family member. Exercise not only helps you achieve or maintain a healthy weight, but it also helps your muscles and bones stay healthy. Keeping active has also been shown to be a vital part of heart health. Therefore, it's important to include a regular exercise routine for each family member when you design healthy living plans for your family members.
You don't have to buy an expensive gym membership or run a marathon. Instead, a family walk or bike ride a few times a week may be a good beginning. Each family member should add an individualized routine to the family activities. For example, your school-aged children are likely to get exercise at school. If you're unsure of how to properly exercise, talk to a personal trainer from a local gym to learn more about different ways of getting active.
Make Dental Health a Family Habit
Dental health can have a large impact on your overall physical health. Good dental health ensures you and your family will have attractive smiles and will be able to chew your food comfortably. The importance of dental health goes beyond these factors since tooth decay or gum disease can cause health problems in other body systems. For example, an infection in your gums may spread to your heart valves and cause a life-threatening problem with the veins or arteries of the heart.
When you design healthy living plans for your family, you should therefore include regular visits to a dentist for each person. Your family's dental health professionals can add their recommendations to the family health plans. Every family member should be scheduled for routine dental cleanings to be sure their dental health status is current. Including daily times for brushing and flossing on each person's schedule is a good start. Be sure to talk to your dentist about how frequently you should set up these appointments.
Healthy Food for Healthy Bodies
Your family doctor is likely to remind you of the family's daily need to eat healthy food. Your body needs nutrients to keep every body system healthy. If those who plan the family's meals and do the food shopping make sure there's plenty of healthy food in the home, the family will enjoy healthy and delicious meals at home.
It's normal for people to enjoy treats like cookies and candy. Eating those foods in moderation won't have a seriously negative effect on your life. As you plan your family menus, include some occasional treats. Your family will appreciate you for it and a few treats now and then can help them appreciate your otherwise healthy members.
Although it's great for the family to eat healthy meals at home, it's also fun to travel and discover food from other places. When you design healthy living plans, it's okay to plan on visiting restaurants that offer healthy options. Whether visiting family or going on vacation, the family will enjoy those experiences more when they sample new foods.
Other Important Health Concerns
There are many other factors that can cause serious health problems if they aren't included when you design healthy living plans. Getting enough sleep every night is very important to your overall health. Lack of sleep can make you irritable or it may mean you don't have enough energy to complete your daily routine. Talk to your doctor if any of your family is regularly not getting enough sleep.
Another important aspect of health that sometimes doesn't get enough attention is your mental health. If you or another family member is battling depression, severe anxiety, or another mental health problem, a supportive counselor can help work it out. Mental health problems can negatively affect physical health, so if you recognize a mental health problem in any family member, you should add a counselor to their healthy living plan.
Don't Forget the Health of Your Pet
If your family includes a pet, keeping your furry friend healthy can contribute to your family's mental health. It's natural to grow to love your pets, and when they're healthy, their companionship provides a big boost to your every family member's emotional health. Just as you need the right medical professional, your pet needs regular veterinarian visits to be sure its health remains good.
Every pet owner fears their pet might have a serious health problem or injury. However, it's best to plan for these emergencies. Therefore, every pet owner needs to note information about the nearest pet hospitals when they design healthy living plans for their furry family members.
Solving Problems After Your House Has a Fire
Planning ahead for emergencies is an important part of making sure your family stays healthy. Being prepared for emergencies, like a fire in the home, is a good way to be sure any problems caused can be resolved quickly. Fire not only damages the appearance of your home, but a fire can also cause problems for the lungs, heart, or skin. If you have a fire, it's important to follow your health plan. Once you've assessed the amount of damage to your home, check your homeowner's insurance to see if you have coverage to pay for smoke damage cleanup.
When finding a business to handle the smoke damage, look for a recommendation from the Better Business Bureau or a trusted friend. You may want safe access to your home as soon as possible, but your family's safety and health must be your priority. So, including a plan for fire clean-up as you design healthy living plans is essential.
Some Threats to Your Home Develop Slowly
A fire, earthquake, or tornado can destroy your home in a moment. Other types of damage can happen slowly, with their damage coming months after they start. Such problems as wiring corrosion or mold buildup can result in serious health problems.
When you're working to design healthy living plans, be sure to include information about local companies which can solve these problems. Be sure to review their websites to learn how long their company has been in business because electricians or mold removal companies are better equipped to handle issues when they've been working with them for years. Your family deserves the best so don't settle for an inexperienced service.
Checking For Asbestos Problems
If you're living in an older home or apartment building, there is a possibility asbestos may be in the inner linings of your walls. Asbestos is a substance that was once popular since it has fire-prevention properties. However, it was later discovered that asbestos can lead to certain types of cancer and other illnesses. If your home contains asbestos, it's important to find this out so it can be removed and replaced.
If you're doing work that exposes the linings of your walls and you discover brown, white, or blue crystals in the lining, they may be asbestos. You'll need to find a licensed asbestos detection service to verify your suspicions. After the asbestos is confirmed, the professionals will recommend either repair of the wall material or replacement. As you design a healthy living plan for your family, be sure an asbestos detection service is included in your resource list.
Get Help with Your Plumbing Fixtures
The pipes that deliver drinking water to your home, as well as water for washing and using the toilet, are essential to the health of your family. When your water pipes are clogged, you'll want this issue resolved as soon as possible. Although you may be able to dispose of the clog with an over-the-counter drain cleaner, those solutions aren't compatible with every type of water pipe.
It's wise for you to be aware of the availability of the community's best drain cleaning plumbers. These companies should be composed of licensed professionals who will do the job quickly and without harm to the pipes. Searching for and listing the contact information of the best local plumbers is an important step to take when you design healthy living plans.
Plan For Getting Rid of Termites and Other Pests
As you design healthy living plans for your family, you may run into unexpected problems from pests. Your home can be damaged by termites, ants, and cockroaches just to name a few. These creatures can damage or destroy both the interior and the exterior of your home. They can also carry or transmit diseases to humans such as viruses or bacteria. If there are pests in your home, it's important to hire a professional exterminator.
Many different types of pests can damage your home. Each of those types of pests needs a specific type of pesticide, and a professional exterminator is best equipped to determine and use the correct type of product to get rid of them. An extermination service is therefore an important resource to protect your family.
Fight For Your Rights If You Become Disabled
When you design your family's plan for healthy living, you'll have a written pledge to do your best to protect your family's health and to be sure they live in a safe home. However, you might have a serious injury, a car accident, or an illness that leaves you unable to work. In addition to the physical and emotional challenges you'll face if you become disabled, your inability to work will leave you financially challenged. If that becomes the case, you'll need help from an attorney who knows how to help you get compensation for injuries, or to obtain the services of a disability attorney.
If your disability resulted from an accident or an injury caused by another person, an attorney can help you get money from the person who is responsible. If you were injured on the job, they can help you get workers' compensation payments. If your disability leaves you permanently unable to work, obtaining disability payments is sometimes difficult. Finding an attorney with experience in disability and disability payments will become the key to your financial survival.
As you can see, there are many things you can do to help your family to live a healthy life. By taking the time to gather all the above elements into a healthy life plan, you'll have a visible blueprint for your family's healthiest life. Sit down with your family and begin your plan today.