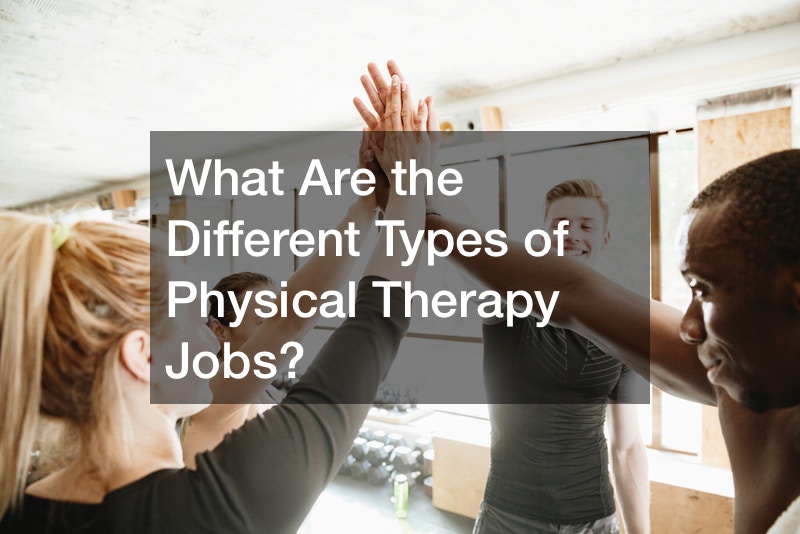 What are the different types of physical therapy jobs? This is one question many people ask because physical therapy seems like one medical profession. On the contrary, physical therapy has different specializations like other medical professions. In fact, it's one of the most lucrative jobs as the Bureau of Labor Statistics predicts the number of physical therapy jobs is likely to increase by 28% by 2026.
The salary is pretty lucrative, too; statistics show the median salary of a physical therapist is around $81,000, which is adequate for modern city life. However, if you want to scale higher, it's best to specialize in physical therapist jobs based on your interests. Here's a detailed guide of what are the different types of physical therapy jobs:
What Do Physical Therapists Do?
Before looking at what are the different types of physical therapy jobs, it's important to understand what physical therapists do. Their primary goals are to restore a patient's movement and function of ailing parts of the body after an injury or disease. They devise treatment plans and propose therapeutic exercises based on your problem to aid neuromuscular movement. Other duties include:
Reviewing a patient's medical history, notes from doctors, referrals, and other healthcare workers
Diagnosing the patients' movements and functions by observing them walk, stand, and performing other exercises
Developing individual care plans while outlining the patient's goals and expected outcomes
Educating patients and their families about what to expect from the recovery process
Evaluating and recording a patient's progress, modifying the plan of care, and prescribing new treatments
Using exercises, hands-on therapy, stretching, and equipment to ease patient's pain and help them increase mobility and ease pain or further injury
Note, a physical therapist's work varies based on the patient's injury. For example, a patient who wants to recover mobility after a stroke needs different care from one recovering from a sports injury. This need leads to specialization in different physical therapy disciplines like geriatrics, orthopedics, and more.
What are the Different Types of Physical Therapy Jobs?
Like other medical professionals, physical therapists are ultra-specialized. Each specialization plays a unique role in the patient's recovery program. Here are some of them:
1. Geriatric Physical Therapist
The professionals help elderly patients maintain or achieve high levels of physical health as they age. They evaluate the patient's problem and tailor a treatment plan that includes physical activity to enable the patient to remain physically fit and active.
After the treatment plan is implemented, the therapist monitors the patient's progress and adjusts it depending on their progress. Geriatric physical therapists often work in assisted living institutions, outpatient facilities, and nursing homes. However, some can work with patients individually.
Required Education
You need a doctorate in physical therapy to become a geriatric physical therapist. This requirement became mandatory after the APTA Vision 2020 statement was implemented. The APTA increased the degree requirements in the physical therapy field of study to ensure future physical therapy students have a DPT that qualifies them to sit for a licensing exam. This requirement protects practicing physical therapists by reducing the number of entrants into the profession. However, it means longer periods of training and fewer years of earning money especially for students who have a student loan.
2. Pediatric Physical Therapist
These professionals are trained to provide therapy to kids with a range of injuries and congenital problems among other things to do with kids. They include:
Muscular dystrophy
Autism
Traumatic brain injury
Down syndrome
Arthritis
Cerebral palsy
Cardio-pulmonary disorders and more
The pediatric physical therapist evaluates and provides treatment by developing a range of motion activities kids can engage in. The assessment involves evaluating things to do with kid's posture, flexibility, strength, balance, sensory processing, and gait.
A pediatric physical therapist's work environment isn't confined to hospitals — they can also work in rehab centers, schools, outpatient centers, and patient's homes. This line of profession is almost similar to general physical therapy, but in this case, the professional provides care to children exclusively.
Required Education
You need a doctorate in physical therapy which takes three years to earn. Also, the education programs must be accredited by the American Physical Therapy Association. Students planning to pursue this career must take courses like anatomy, biology, pathology, behavioral science, exercise physiology, radiology, and pharmacology. It's also important to complete an internship or assistance before specializing in the field.
3. Orthopedic Physical Therapist
These therapists specialize in treating injuries that lead to impairment and dysfunction of the soft and bony structures of the body. Such impairment causes patients to develop bone fractures, tendonitis, post-operative conditions, ligament sprains, or muscle strains affecting their day-to-day activities.
Orthopedic physical therapists provide treatment plans that help recover mobility and range of motion. They also play a critical role in a patient's postoperative rehabilitation program after surgery using methods such as:
Massage
Exercise
Strength training
Joint mobilization
Muscle stimulation
Heat or ice application
Education Required
Students aspiring to work in this field must earn a doctorate in physical therapy from an accredited institution. Also, they must pass the state exam that allows professionals to practice therapy in a state and attend a specialist certification program.
4. Cardiopulmonary Physical Therapist
Cardiopulmonary disorders have become incredibly common among adults making this kind of therapy incredibly useful. According to the World Health Organization, cardiopulmonary disorders are the number 1 cause of death globally. Since the cardiovascular system helps deliver oxygen to active tissues, it has a strong correlation to mobility. Any infection or abnormalities can hinder the performance of day-to-day activities.
A cardiopulmonary physical therapist helps patients regain the proper function of their cardiac and respiratory systems after an illness or debilitating injury. They develop treatment programs tailored to individual patients and guide them through the regimen.
Education Required
Therapists must have a doctoral degree from an accredited physical therapy program. Also, undergraduate courses like social science, biology, and anatomy serve as pre-requisites. Students must also take up fellowship programs or residency.
5. Sports Physical Therapist
It's the oldest form of therapy in our list of what are the different types of physical therapy jobs. Dating back to 1924, it started off as massage therapy before venturing off into different forms of sports therapy. Today, a sports physical therapist is not only called up to provide pain relief regimens or treat injured athletes but also participates in training to help them attain peak performance.
The therapists design treatment based on the condition of the injury and athlete's need. Techniques like hydrotherapy, stretching, manual therapy, application of heat or cold medication, strengthening, and sprays are used to restore movement and function after injury.
Also, the therapist is instrumental in helping athletes improve strength training on different terrains. Whether you're training on regular track or on synthetic grass, therapists help balance performance. Different body parts influence each other, and strengthening one helps in the function of another. Instead of performing a new activity, it's essential to train the body to react to a new form of stimulation by improving range of motion and muscular strength.
Sports physical therapists also assist athletes in achieving their physical goals. While regular exercise, hydration, and a healthy diet improve physical fitness, the professional helps you focus on increasing muscular functionality and strength. To sum it all up, five pillars guide sports physical therapy:
Acute management of athletic injury
Interdisciplinary collaboration
Return to play after athletic injury
Sports performance and sports rehabilitation
Sports science
Required Education
Students aspiring to venture into this field must obtain a graduate degree in sports physical therapy. They are also required to undergo one year of training in rehabilitating athletes from injuries. A doctoral degree in physical therapy is also essential if planning to set up a practice.
6. Neurological Physical Therapist
Injuries to the brain, spinal cord, and the central nervous system can lead to the death of important cells that control sensations and movements. These are the most common car accident injuries personal injury lawyers use to negotiate compensation from insurance companies. Patients who have experienced such injuries develop neurological disorders like stroke, brain injury, spinal cord injury, multiple sclerosis, Parkinson's disease, to mention a few.
Without neurological physical therapy, such patients can lose many functions and become dependent on their caregivers. Reduced-intensity of activities also leads to other health problems like lung problems, diabetes, heart problems, and reduced quality of life.
Neurological physical therapists perform a comprehensive evaluation of the patient's functional and independent body parts and propose therapies that can help them regain lost functions. The therapy entails:
Gait training
Core stabilization
Improving motor planning and control
Enhance core stabilization
Improving functional movement and strength
Restoration of range of motion
Postural re-alignment
Education Required
You need to hold a Doctor of Physical Therapy degree and relevant neural certification programs to become a neurological physical therapist. Some states also require therapists to obtain a license.
7. Oncology Therapist
Despite advancements in cancer treatments designed to extend patient's life, many of them experience reduced quality of life before and after treatments. Physical therapists play a critical role by helping patients confront the challenges arising during treatment. Cancer can be emotionally draining, and it's essential to have a cancer care team that supports you in all the stages.
Surviving patients need physical therapists, too, to help them recover from the trauma. They engage with patients to apply therapies to restore their functions, propose relaxation techniques and encourage patients.
Required Education
Professionals working in this field must acquire education in oncology and have practical qualifications as other physical therapists. A license is also required in some states.
8. Vestibular Rehabilitation Therapist
The different types of physical therapy jobs also entail alleviating primary and secondary problems caused by vestibular disorders. This is a unique form of therapy called vestibular rehabilitation therapy. The professional customizes an exercise-based program for reducing vestibular problems like gaze instability, imbalance, vertigo, and dizziness. For many patients, this condition leads to permanent impairment because rehabilitation restores a small vestibular function.
The therapist prescribes either of the following three exercises depending on your vestibular-related problems:
Habituation
Gaze stabilization
Balance training
Habituation exercises are used on patients experiencing dizziness when they move around, especially when making quick head movements or changing positions. It's also appropriate for patients who get dizzy in visually stimulating environments like shopping malls, theaters, or cinemas.
On the other hand, gaze stabilization exercises improve eye movements during head movement. They are suitable for patients who have problems seeing clearly because their visual world bounces or jumps around when identifying objects or reading. The therapy involves performing a range of head exercises to promote gaze stability.
The last kind of training improves steadiness, so daily activities for self-care, leisure, and work are performed successfully. Balance training exercises primarily address patients' underlying balance problems and reduce environmental barriers.
Therapists develop customized plans based on clinical assessments, imaging studies, patient input, and lab results. That's why a patient with gaze instability due to vestibular neuritis is prescribed habituation exercises while another with Benign Paroxysmal Positional Vertigo (BPPV) undergoes canal repositioning exercises.
Required Education
You need advanced post-graduate training in physical therapy to work in this field. Also, a state-issued license is required to practice in certain states.
9. Tinnitus Retraining Therapy
This is an individualized program often administered at a tinnitus treatment center by an audiologist. The therapy is a behavioral remedy that aims to help patients live with tinnitus by changing the way they think and feel about its symptoms.
It combines counseling and sound masking activities. You'll be required to wear a device in your ear to block tinnitus symptoms while receiving counseling.
Education Required
This therapy is a little far-fetched hence the need to obtain training in audiology before venturing into physical therapy. A doctoral degree and a license are mandatory.
10. Women Health Therapist
You should consider gender-specific therapy when inquiring 'what are the different types of physical therapy jobs.' Women's health therapy is a therapy that incorporates treatment of problems affecting women.
The therapy stems from the growing evidence that physiotherapy can alleviate problems associated with pelvic pain, prolapse, incontinence, and constipation. Professionals who have specialized in this field understand women's musculoskeletal system and conditions that affect them.
As such, the therapists deal with problems like osteoporosis, pelvic pain, and lymphedema. Also, they prescribe prenatal and postnatal exercises like:
Manual therapy exercises
Advice on sleeping positions, movement modification
Pilates-based pelvic stability exercises
Pelvic floor retraining exercises
Treatment of pelvic, hip, or lower back pain
Provision of pelvic floor educators or stimulators to improve the power of pelvic floor contraction
Required Education
Physical therapists planning to specialize in this field must have a doctoral degree in physical therapy and go for an internship. A state-issued license is also mandatory.
General Qualities and Skills
Apart from familiarizing yourself with what are the different types of physical therapy jobs available, it's important to develop these qualities:
Communication skills: Physical therapists mainly deal with people. It's crucial to have good communication skills that enable them to motivate patients, explain treatment programs, and listen to patients
Compassion: Since the professional spends a lot of time interacting with patients, they should have a desire to help people
Physical stamina: Physical therapy involves demonstrating recovery exercises and helping patients perform them hence the need to enjoy physical activity
Dexterity: Physical therapists often use their hands to help patients perform therapeutic exercises and manual therapy. As such, they should feel comfortable physically assisting patients
How Physical Therapists Charge for Services
Knowing what are the different types of physical therapy jobs is important but understanding how to charge for your services is a critical part of your long-term career. A solid understanding of primary care billing is important. It involves identifying the diagnosis code for the services rendered and reflect the diagnosis, condition, problem, and other reasons for the patient's visit. Be sure to choose a code that reimburses your services under the patient's personal insurance policy.
Our guide on what are the different types of physical therapy jobs isn't exhaustive because physical therapy is a vast field that continues to grow. As lifestyles change, people are likely to develop unique problems that create new physical therapy specializations.