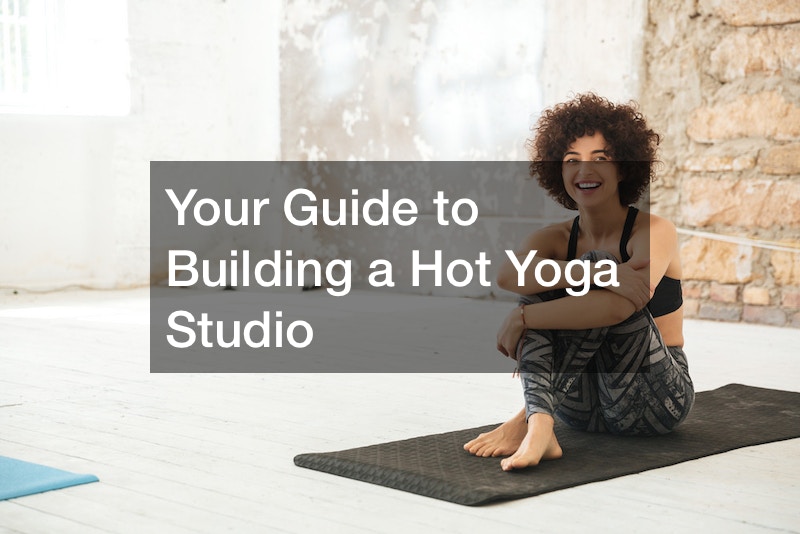 Building a hot yoga studio could turn out to be the most rewarding thing that you do if you're passionate about yoga and would like a fulfilling career. This is also an amazing business idea because more people than ever before are developing an interest in hot yoga. If you're a skilled yoga teacher, you already have an advantage when it comes to owning a studio of your own. If you want to know what the basic steps that you need to take when planning on building a hot yoga studio, keep reading to see some of the basic steps to take.
Get Your Finances in Order
The first thing that you need to do when planning on building a hot yoga studio is to get your finances in order. This is an important step to take because you don't want to take the risk of having to stop your construction process because you're out of money. That said, write a business plan and use it as a guide to see how much money you need to set aside for the project. This will make it relatively easier for you to take the next step, which is looking for funding.
When you have a solid and professional business plan, whose template you can find online if you check, you have a great chance of qualifying for loans from various institutions. For this step, you may need to work with a professional financial advisor who can tell you what you need to know in terms of how to approach lending institutions for assistance. Make sure that in the end, you have the finances to keep operations running for at least six months after you open. This is the best way to cushion yourself against unexpectedly slow business and before you can start to break even.
Get the Permits and Licenses You Need
Next, remember that you must keep your operations legal. To do this, you must get various permits and licenses from the local governing bodies. These permits are typically given to businesses that meet set regulations of security and other details. With the licenses, you can be sure that no one will put your classes to a stop because you aren't in compliance with the governing regulations. When you have licenses and display them prominently around your hot yoga studio, this is also going to help people develop more trust towards your studio and operations in general.
It might be a good idea to hire a legal professional with experience in opening similar businesses to yours. They're going to cut short your search for a complete list of the documentation that you need in order to begin operations. The fee that they charge could help you save time and even work on other aspects of building a hot yoga studio. If they could go a step further and actually process these documents for you, then you'll have less hassle to deal with.
Buy Necessary Equipment
In order to make your hot yoga studio fully operational, it's important that you buy the necessary equipment for the space. The specific equipment that you need to get will generally depend on the classes that you want to offer. This is one of the things that you might have outlined in your business plan, so you can refer to it at this point. There will be general equipment as well, for which you must make the right financial plans.
Don't forget to invest in quality software that can help you run operations more smoothly. The right software to start with should make it easier for you to manage bookings and cancelations a lot more easily, schedule lessons, keep your clients engaged, market, and even manage payments. When you set out with the right software from the start, you can enjoy an easier process in general.
Transform the Exterior
The exterior is another one of the important things for you to keep in mind when building a hot yoga studio. This is because potential clients will see the exterior before they can enjoy the interior space. You therefore need to make sure that the exterior is clean, well-maintained, and attractive. This is going to get clients in the right mood, and might even make it a lot easier for them to appreciate the effort you make in the interior.
Before you start adding decor and accessories to the landscape, address the details of the building itself. Make sure that it's clean and in good shape by making any necessary repairs. For instance, if there's an issue such as damaged siding, talk to a local siding contractor to help you get it in order. Now you'll be able to paint and decorate the exterior of your yoga studio. You can even make the most of your branding by displaying your logo or painting the exterior in your brand colors to make it more easily recognizable.
Remodel Your Space
After you're done with the appearance of the exterior, take a look around the rest of the space to see what you can improve. Depending on the condition of your building, there may be a lot to do or a little. Whatever the case, you may find it easier to do if you come up with a checklist of the items that you want to work on. This way, you can easily find out the professionals to hire for the tasks. From excavating contractors to bathroom remodelers, don't ignore any professional who can improve your space, especially if you can afford them.
Keep in mind that building a hot yoga studio may not be the same as building other types of spaces and businesses. You may need to find specialists who know about hot yoga studios so that they can do a great job, even without your input. If you'd like to make some savings, take a look at the tasks that need to be done and see if there are any that you can DIY. These should be relatively simple and safe ones to work on, like painting the space.
Renovate the Bathrooms
Consider hiring a licensed plumber while building a hot yoga studio so that they can help you with plumbing renovations. They can help you convert the bathrooms from small, poorly lit spaces to vibrant, fresh spaces that carry on the theme of your hot yoga studio. Work with them to find out the details that you need to work on, including changing the fixtures to newer and more modern ones. This is a great way to play up the space and make it comfortable and functional.
Don't forget to ask the plumbers that you hire to take a look at the entirety of the plumbing. If they find any leaks or clogs, they should repair them immediately. As a result, you can expect that your hot yoga studio will be quite green as there won't be an unnecessary wastage of water. With free-flowing drains, you'll also not have to deal with things like drain flies and unattractive smells in areas like the bathrooms and toilets.
Install a New HVAC System
The air circulation in a hot yoga studio needs to be in great shape. This is because you don't want people to be uncomfortable while taking part in classes. That said, add HVAC installation to your list of expenses when building a hot yoga studio. When you do this, you'll keep the studio's temperatures comfortable all year long, making sure that people can attend classes whenever they please.
Look for a reliable AC company in your area to ensure that you can get the right setup. They should also let you know the necessary service and maintenance steps to take so that you can keep your energy expenditure manageable without impacting the temperatures. Heating and air conditioning repairs will be a lot easier for you to do if you have easy access to a reliable professional. This is the reason why it makes sense for you to find a competent HVAC professional to partner with right from the start.
Be Mindful of Air Quality
The air quality in your hot yoga studio can impact the comfort of your clients and either make them stay for more classes or want to leave as soon as they possibly can. This is why, when building a hot yoga studio, you should work with ventilation services to make sure that air circulates effectively through the space. This is something that you can improve on by either getting air conditioner installation done or setting up windows the right way. The option that you choose will be dependent on your studio's location.
If your studio is in a green area with lots of trees and fresh air, you can take advantage of windows and let nature in. If your studio is in the middle of the city surrounded by various sources of noise and emissions in general, then you should go with air conditioning. In the best-case scenario, you should have both of these options so that they support each other.
Invest in Your Windows
Windows, which let in light and can also be used to improve ventilation, need to be a part of your plans when you're building a hot yoga studio. You can use the windows for much more than these basic functions with the help of experienced professionals. For instance, you can add a decorative element to the windows to improve the overall appearance of your yoga studio, both from the outside and from the inside. You can also make them more functional by employing commercial window tinting services to add some tint and protect the interior of the studio from the effects of UV rays.
Repair Your Parking Lot
When building a hot yoga studio that your clients will love, you want to make sure that parking is not a hassle for them. Neither should it damage their vehicles and leave them with additional costs at the end of every month. Make sure that your parking lot is in great condition by calling commercial concrete restoration to work on it if it's made of concrete. For an asphalt parking lot, call asphalt professionals who will help you repair gaping cracks and holes, both large and small.
Once your parking lot is fresh and new, find out the maintenance steps to take so that you keep it in this shape for a long time. When you do this, you can get maximum returns from this investment as you may not have to work on it again in a short time. Clients will feel safer when they drive into a well-maintained parking lot. It will also be easier for you to add decorative elements or signage as you choose, and have it look professional.
Keep Pests Away
You don't want your clients to leave your hot yoga studio with bugs on them or make it a necessity for them to carry mosquito repellent whenever they attend your classes. To this end, talk to ants control services and other pest exterminators in your area while building a hot yoga studio. They should tell you the necessary modifications to make to your studio to keep it pest-free. They should also let you know what the signs of a potential pest infestation are, as well as the best practices to put into place so you can keep pests at bay. This will do more than simply keep your customers comfortable, as it will also protect the aesthetical and structural details of your hot yoga studio.
This guide should make it easier for you to understand the steps that you need to take when building a hot yoga studio. By considering them and also working with the help of the necessary professionals, you can get an amazing outcome. Remember to learn about how to do preventative maintenance so that you can safeguard the outcome of your hard work. This way, you can save money on repairs and replacements and give your hot yoga studio an amazing reputation in terms of safety, design, and a lot more.